Behind the Scenes with Molang Illustrator, Hye-Ji Yoon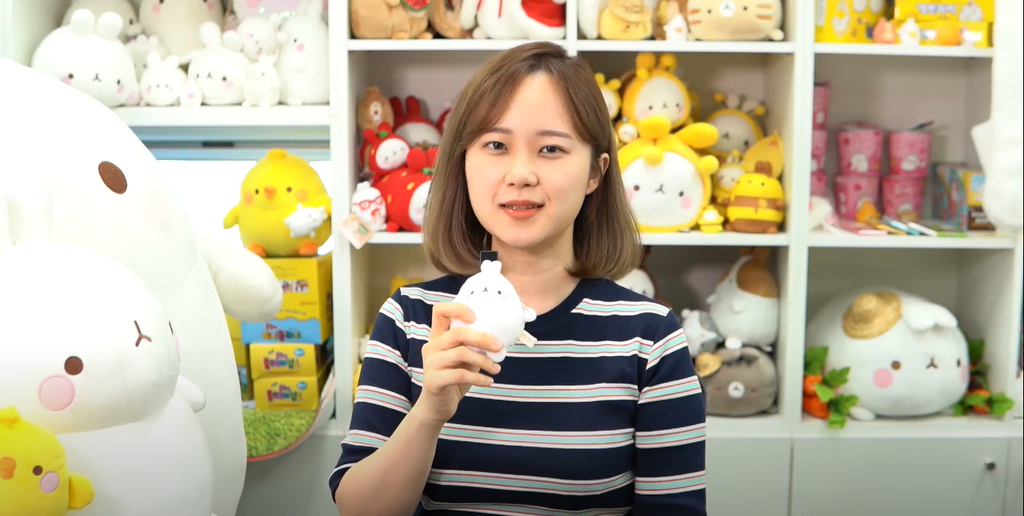 THE BACKSTORY
Hye-Ji Yoon is a South Korean illustrator and designer, and the author of Molang. Majoring in Visual and Media Design at university in Seoul, Hye-Ji often sketched kawaii characters on her schoolbooks to pass the time. Looking back, Hye-Ji thought that she first drew Molang while at university, but then she found sketches that dated back as old as her high school years. The first official Molang drawing dates from May 11th, 2010, when Hye-Ji was only 21 years old. Today, Hye-Ji is 31 - meaning the first Molang drawing is now 10 years old!


ORIGINAL MOLANG SKETCHES BY HYE-JI YOON


WHY THE NAME MOLANG?
At the beginning, Hye-Ji named Molang "Boo", like what someone says to scare someone else. But Hye-Ji quickly realized that Molang was too cute to scare anyone - it was simply too huggable!
She turned to her younger cousin to find a new name. She named it "Malang" (meaning Marshmallow in Korean), because of its pillowy, soft and silky appearance. But Hye-Ji instinctively corrected it to Molang, because it sounded more like a proper name in Korean.



MOLANG GOT ITS NAME FOR ITS FLUFFY, MARSHMALLOW-LIKE APPEARANCE
WHERE DID THE INSPIRATION FOR MOLANG COME FROM?
Hye-Ji loved drawing rabbits and would often draw them in class, since high school. The more she drew the rabbit sketches, the more Molang came to life - it got its signature fluffy figure, round body and cheeks, and finally became the Molang of today.
ORIGINAL MOLANG DESIGNS ARE KNOWN FOR ITS GENTLE SMILE, SIMPLE BACKGROUNDS AND DETAILED PROPS
MARIE-CAROLINE VILLAND, SCREENWRITER AND DIRECTOR OF MOLANG
HOW DID MOLANG GO FROM A DOODLE TO AN ANIMATED SERIES?
In 2014, Hye-Ji went to the Annecy International Animation Film Festival to present Molang as a licensed product. It was Hye-Ji and Molang's first time ever coming to France, and their first time at such a huge animation festival! While there, she lost one of the XXL Molang plush she brought over as a prop. Hye-Ji quickly put up a poster to find the plush. It just so happens that Marie-Caroline Villand, the future Director of Molang, came upon the flyer while at the festival for Millimages studio. Upon seeing Molang, it was love at first sight - Marie-Caroline immediately felt that she could tell a funny story about the super cute kawaii bunny. 
Although Marie-Caroline had no idea where to find the missing plush, she did have an idea for Molang's story - making up for the missing prop in the end! Thus, it was on the border of the beautiful Annecy Lake that this destined Franco-Korean friendship was born. 



HYE-JI AND MARIE-CAROLINE POSE ALONGSIDE THE MILLIMAGES TEAM 

WHAT BROUGHT HYE-JI AND MARIE-CAROLINE TOGETHER AS CO-CREATORS OF MOLANG?
Despite their very different backgrounds, the language barrier, their age and experiences, Hye-Ji and Marie-Caroline created an instant bond over their love for the kawaii bunny Molang. As its author, Hye-Ji already had an image inside her head about Molang - its shape, movements and expressions. As a screenwriter and director, Marie-Caroline brought a storytelling perspective to the super cuddly character - taking Molang off paper and into an animated character. 
Marie-Caroline had a vision for Molang as a non-gendered, positive and adventurous bunny who, along with its best friend Piu Piu, could take on the world. The characters would even speak a universal language, known as Molangese, so that it could be understood by everyone. By doing so, Marie-Caroline created a timeless and transgenerational character loved by children and adults alike. 
In the co-creation of Molang, Hye-Ji and Marie Caroline paid no mind to any physical boundaries. If anything, their different backgrounds helped to create a super lovable character and to tell Molang's story to the world. In an industry filled with male designers and directors, the two women's collaboration also surpassed all stereotypes - further solidifying the force of women in animation. 


MOLANG AS THE LITTLE MERMAID AND MOLANG AS SPONGEBOB
A LIFE-LONG COLLABORATION
Hye-Ji admits that if she had tried to develop Molang on her own, she would've been faced with a lot of limitations. 
The beauty of the collaboration between Hye-Ji and Millimages is that the studio was able to make Molang come to life - not only on the TV screen but also on social media, GIFs, additional content and much more. The team also makes countless pop-culture parodies with Molang - something that delights Hye-Ji to discover every time. Hye-Ji loves to see different Molangs she wouldn't usually be able to make, just like Millimages loves to see Hye-Ji's unique creations. 
The Millimages team continues to work with Hye-Ji on a daily basis, sharing every milestone, artwork, episode and much more. The author and the animation studio have created a harmonious collaboration that continues to grow stronger and stronger - making Molang more accessible to the world everyday!