Let's Cook With Molang - Vegetarian Pasta and Matcha Tiramisu Recipe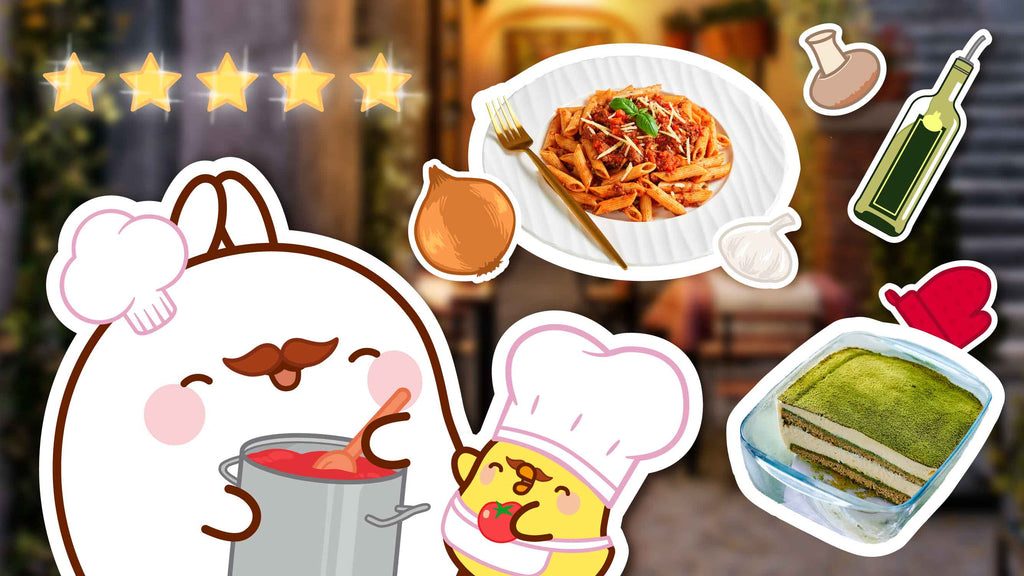 Lovely Pincos! Today, Molang and Piu Piu are heading straight to Italia. Want to join them? We're going to show you how to cook 2 kawaii recipes that will warm your heart 😋
Our cute friends are here to whisk you away on a charming adventure through the flavors of Italia. Our chefs Molang and Piu Piu has cooked up a vegetarian pasta recipe as adorable as our Pincos 🍝
They also have a matcha tiramisu recipe for dessert 🍵
Get ready to embark on a cute and fluffy culinary journey that will warm your heart and awaken your taste buds!
📣 Warning, Lil Pincos! If you're underage, make these recipes in the company of your parents or an adult. Also, pay particular attention not to cut or even burn yourself. 📣
 🍝 VEGETARIAN PASTA RECIPE 🍝
As Piu Piu and Molang embarked on their enchanting adventure through Italy, they couldn't resist the charm of its culinary traditions. The cute duo thought that you Pincos, always curious about the world around you, would be extremely interested in the art of Italian cuisine.

Guided by their passion for kawaii food and their desire to show Italy's rich flavors, they selected for you a Vegetarian Pasta recipe. This is a heartwarming Italian classic that combines fresh ingredients and timeless techniques to create a comforting meal, just for you! 🤗
Let's set the stage for our pasta adventure!
👨‍🍳Here are all the ingredients: 
Pasta (Penne) 

3 Mushrooms 🍄

3 Tomatoes 🍅

1 Can of Crushed Tomatoes 🥫
Garlic 🧄

Onions 🧅

Olive Oil 🧴

Pepper

Salt 🧂

Fresh Parsley 🌿
🍝How to make it?  
1 – First, let's boil the water in a cooking pot, salt the water, add some pasta. Molang and Piu Piu are using Penne but you can use any type of pasta you like 🤗
2 – Then, we're going to chop up some onions. You want to make sure your knife is sharp so that you don't have to put too much pressure on the onion and risk hurting yourself. Be careful!
You're crying 😢 - It's nothing, just the onions. Go and get a tissue!
3 – Now, you can cut the garlic. We love the smell of the fresh garlic 🥰
4 – Next, we're going to add some olive oil to our pan. I'm using extra virgin olive oil because I love the flavor it adds to the dish.
5 – Let's add in our onions and garlic. We want to cook these until they're nice and soft.
While those are cooking, let's move on to our other ingredients. We're going to need some diced tomatoes, some tomato paste and some mushrooms.
6 – Cut the tomatoes and the mushrooms. Be careful, Pincos!
7 – Put it all with the rest (onions and garlic) in the cooking pot with the pasta. Add the full can of crushed tomatoes. Piu Piu loves the sound of a can opener 🥰
8 – Let's add some salt and pepper to taste. We like to use freshly ground pepper because it has a stronger flavor than pre-ground pepper. Now we can mix.
9 – Put the cooking pot on heat to make it boil. We're going to let this cook for about 10 minutes until the pasta is al dente (depends on what type of pasta you are using).
10 - Sprinkle some fresh parsley on top for some extra flavor! 
There we have it, our delicious and comforting pasta dish is ready 😋
🍵

MATCHA TIRAMISU RECIPE 🍵

During their stroll through the charming streets of Italy, Piu Piu and Molang were captivated by the exquisite dessert culture of the country. The chef duo decided that they simply had to introduce you Pincos to the magic of tiramisu!
Wanting to present an original recipe, Molang and Piu Piu chosed to present a Matcha Tiramisu recipe. It perfectly combines the beauty of traditional tiramisu with a twist of matcha kawaii elegance. The best way to go on a journey through the sweet and creamy landscape of Italy's famous dolci.

After a delicious dish, a good dessert is a must!
👨‍🍳Here are all the ingredients: 
40cl of Single Cream

250g of Mascarpone 🍚

70g of Sugar

20g of Icing Sugar
🍵How to make it?  
1 – First, we will boil water to make the green tea.
2 – Then, put the sugar and mascarpone in a bowl and mix it until it's creamy.
3 – In a cold bowl, whip the single cream to make chantilly, it'll give fluffiness to the mascarpone! During the process, add 20g of icing sugar. Yummy yummy 😋
4 – When the Chantilly is firm, add it to the mascarpone cream in 3 times. First third, add it with a whisk, then the two others thirds, add it slowly with a spatula.
5 – Let's make the matcha tea to soak your biscuits! Take your boiled water then make the matcha tea in a small bowl.
6 – Dip the ladyfingers in matcha tea and place them in the bottom of a cake pan. On one layer, cover the dish with ladyfingers.
7 – Then, you can add the mix of mascarpone and chantilly cream at the top of it.
8 – As a topping, grate some cinnamon biscuits, it goes well with matcha tea! Add the grinded speculoos on top.
9 – Place this masterpiece in the fridge for a cozy nap of 3-4 hours.
Then, last step and not least, indulge in this heavenly dessert crafted with love by Molang and Piu Piu 😊
✨ Let's enjoy these 2 kawaii dishes to share with your loved ones ✨
If you missed it, you can find the video of these 2 cute recipes on Youtube!
Want to take your meal with you? At the office? At school? For a picnic? Yes, we can read your thoughts... We have exactly what you need, the PERFECT product you've been missing this whole time without even realizing it. Yup! We're talking about the Ramen'tic Lunch Box.
📸 Do not forget to mention us on Instagram 📸