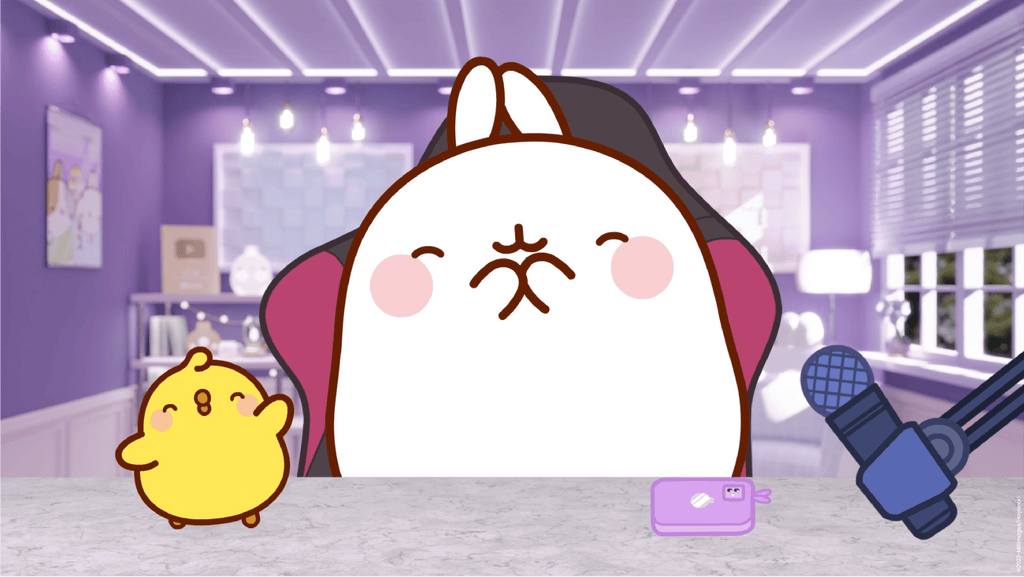 💜 DISCOVER MOLANG YOUTUBER 💜
As you may have heard of it: Molang and Piu Piu are now
YouTubers
! To connect even more with you, Pincos, the two best friends are uploading various content EVERY WEEK, such as video reactions, gaming, ASMR, challenges, and more 🎮
Why did Molang and Piu Piu launched this new concept? To be part of the IRL world and become the first cartoon YouTubers! ✨
Launched in June 2023, Molang's YouTuber videos have racked up an impressive
50 000 subscribers
and
4 Millions views
in just two weeks – with
2 Million views
on the
Poppy Playtime
video alone so, be ready to add some spicy Molang videos in your next YouTube sessions!
💖 CHECK OUT SOME OF OUR VIDEOS 💖  
In this video, Molang & Piu Piu are playing a horror game!

Poppy Playtime, players take on the role of an unnamed protagonist who enters a seemingly abandoned toy manufacturing factory called Poppy Playtime Co. As the player explores the factory, they uncover the history of the factory, its creator, and the mysteries surrounding the toys.
Between stressful situations and scary moments, you'll see that this game has played with our little hearts 😅
Relaxing ASMR by Cartoon Characters | Cozy moments with soothing voice 🍵 (sensitive mic)
Sit back and relax while Molang and Piu Piu do ASMR just for you! 🤗 

Cute ASMR videos are often described as a relaxing and pleasurable sensation, and it can sometimes be accompanied by feelings of calmness and reduced stress, a perfect situation for the best friends to put you in a good mood after Poppy Playtime...
Whether you need help falling asleep or relieving anxiety, let Molang and Piu Piu's ASMR take you away. 


Did you enjoy the ASMR Molang video? ✨


Popular Cartoon Characters' Morning Routine | Breakfast, Skincare and Clothing ✨
In this Molang YouTuber video, we'll discover Molang and Piu Piu's morning routine! 🤩

A good and kawaii Morning Routine can help set a positive tone for the rest of the day and promote productivity, focus, and well-being.
Discover their little habits, their recipes to get off to a good start, and even their products for a healthy glow! 🧴


Funny Cartoon MUKBANG | Testing French and Korean Food 🤤
Watch Molang and Piu Piu try French and Korean cuisine!
From Korean delights like kimchi pancakes to French delicacies like macaroons, find out how Molang and Piu Piu taste and react! Be warned, it might make you hungry with Molang's mukbang! 😄 
For your information, a Mukbang involves individuals or hosts (Molang & Piu Piu here) eating large quantities of food while interacting with their audience through a live stream or recorded video. The term "mukbang" is a combination of two Korean words: "mukja" (eating) and "bangsong" (broadcast).
So grab a snack, make yourself comfortable, and join Molang and Piu Piu on this delicious culinary adventure! 🍴
Cute Cartoon React To Cute Animals on TikTok | Cuteness Overload 🥺
Here, Molang and Piu Piu we'll be reacting to TikTok videos of cute animals! Dogs, cats and even a little donkey... so kawaii 🥰
Cute animal videos can evoke feelings of warmth and tenderness. You might find themselves smiling and feeling a sense of happiness as they watch adorable animals in action.
You'll find it impossible to resist their cuteness! Which one is your favorite animal ?
And watch some exclusive content of the best friends, upload every Sunday 🌟
Molang cares for everyone and everything.
Everybody loves Molang. Molang loves everybody.
Do not forget to mention us on Instagram ✨