Let's Be Kind With Molang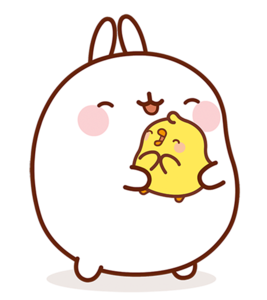 💖 HOW TO BE KIND 💖
Molang is that one person in your life who never fails to make you smile. Living by the values of Friendship, Happiness, Empathy and Positivity, Molang and Piu Piu are all about positive vibes.
A constant reminder that the small things in life can make the difference.
The definition of Kindness is being generous, helpful, and to care about other people.


The Key Characteristics of a Kind Person  
Empathy
Good listening skills
Generous
Charitable
Helpful
Courteous
How to be kind according to Molang ?
Be kind to yourself.
Be kind to others.

Compliment someone when they do something positive/good

Be aware of others around you 
Share the kindness you receive 
Volunteer for charities or good deeds
We share love with others through kind gestures (such as a smile, a nice word) or through an action (such as a well planned surprise, like a Molang themed birthday party) ! When we offer these gestures to others, we help people feel good and have a nice day. Thanks to all the kind actions we do, we are able to show the power of kindness all around the world
 💙Loobi Pinco 💙 Extra rabono Pinco💙Maximo Rabono💙
✨ Be kind with everyone around you, and Molang and Piu piu will be the happiest Pincos ✨
🐰Do not forget to mention us on Instagram 🐰