Let's Cook With Molang - Molang Biscuits Kim-Joy's Recipe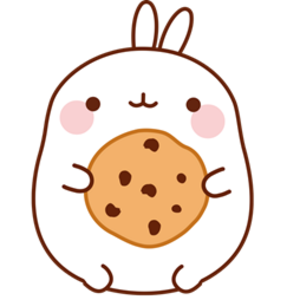 🍪 MOLANG BISCUITS RECIPE BY KIM-JOY'S 🍪
This is an easy Molang recipe, thee ingredients, buttery and delicious shortbread ! Which is then decorated with super cute Molang icing. You can flavour the biscuits however you want – try lavender, orange or lemon zest, rosemary or orange blossom.
🎀Here all the ingredients : 
For the biscuits :
200g salted butter

270g plain flour

caster sugar
🎀For the royal icing :
200g icing sugar

40g egg white

Food dye ( the main colours for molang are white, black, brown and pink – add other colours for accessories)
🎀How to make it ? :
1 – Beat together the butter and caster sugar in a mixing bowl, until smooth and fluffy
2 – add the flour and mix by hand until just combined. The dough should be slightly sticky, but soft and easy to handle. If necessary, wrap the dough in cling film and chill in the fridge for 10-15 minutes or until firm enough to roll out.
3 – Turn out on to a well-floured surface and roll out to desired thickness. Cut out Molang shapes using a cut out cardboard template (cut around the template) and transger to a lined baking tray (that you can fit in the freezer).
4 – Place in the freezer for 10-15 minutes and preheat the oven to 160C fan/gas mark 3
5 – Bake for 10-15 min, or until just lightly browned at the edges. Leave to cool for 10 minutes on the baking tray, then gently transger to a wire rack to finish cooling.
6 – Make the royal icing – just whisk together the icing sugar and egg white in a bowl, until smooth. Make sure the consistency is pipeable, you can add additional icing sugar/egg white to adjust.
7 – Divide into portions and colour using food dye. Make the black icing or brown icing slightly thicker consistency to pipe, as you will use this to outline Molang and add facial features.
8 – Then transger all your different colours to piping bags. Outline Molang using the black icing, and then fill within the outline. Leave to semi set for about an hour (or harden completely overnight) and the add the facial features, and use other colours to create cute accessories for Molang-l've.
💖  Now let's eat these delicious Molang Shortbread Biscuits a recipe by Kim-Joy's. 💖
Find here for more 🌈 activities 🌈and the special : 
🌟 My Dream Summer With Molang booklet  🌟 
✨Do not forget to mention us on Instagram ✨