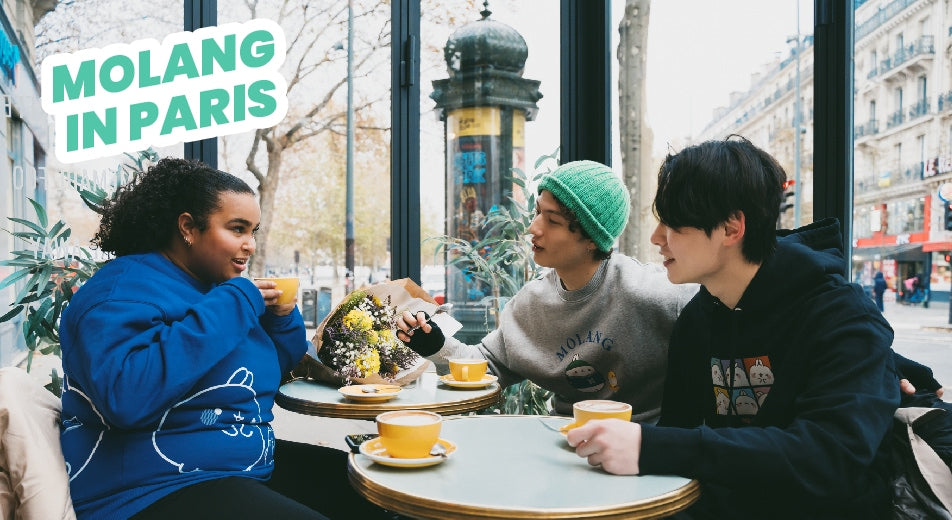 You might wonder why Molang and Paris are related?


Well it's all started with the encounter of two women with very different universes. Hye Ji Yoon, a young and talented Korean illustrator and a French author and director Marie-Caroline Villand who felt in love with the two adorable characters, and started to devellop their personnalities, values, universe and stories ✨


December 9 of 2022, we have launch a new collection specially before Christmas with a new apparels with 2 sweatshirts, 1 hoodie and 1 t-shirt and to celebrate this new launch we did a shooting photo in in the 11th district of Paris 🎄


Here the best things to do in République


Place de la République it should be the first stop to explore. Start with Marianne, the statue at the centre of the place and a French symbol of the revolutionary values of liberty, equality and fraternity💙


Enjoy a Parisian picnic on the Canal Saint-Martin, a former source of drinking water for Parisians that has since become a trendy part of the neighbourhood, a really good place to be with friends or family. 💐


Take a seat at
Café Fluctuat Nec Mergitur
and let's enjoy some good times while eating a delicious Pizza with your friends or family ✨
If you are looking for some art and culture the perfect place to go is
Le Point Ephémère
,
 thi is a hub at the far end of Canal Saint-Martin known for its changing schedule of cultural events, ranging from concerts and art exhibitions to tarot readings. A perfect date place 💕
Would you like to visit Paris ? 💖


Molang cares for everyone and everything.
Everybody loves Molang. Molang loves everybody.