New Molang collection for Spring!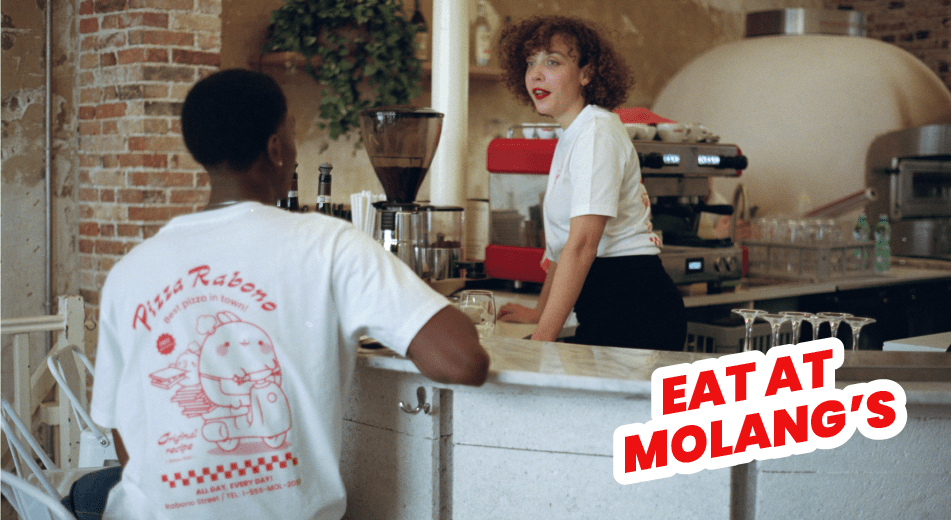 We just dropped a new
T-shirt collection on molang.com
boutique!
❤️
💙💚 This time, Molang and Piu Piu are inviting you to eat at their special restaurants!
❤️
💙💚
A stylish white t-shirt with a vintage diner vibe! Molang, Piu Piu and The Pincos are dressed as american diner staff in the back. You can choose between a green one or a red and blue one! 🥞

A stylish white t-shirt with a Molang Pizzeria theme. Molang and Piu Piu are so cute as Italian Pizzaïolo 🍕
 
 WHERE TO EAT IN PARIS ? 

We though the timing was great to share with you our favorite restaurants in town!
SONNY'S DELI 🥪
At Sonny's Deli, we are on real gourmet and very, very generous recipes, that we could easily find in the streets of NYC
4 Rue de la Fontaine au Roi, 75011 Paris
Molang Bicolor Vintage Diner Tee-shirt


La Caravane 🍝
Cosmopolitan, family-oriented and popular, their cuisine reflects their team and the neighborhood. A "home-made" cuisine conceived according to the seasons by their passionate, curious and creative chef.
35 Rue de la Fontaine au Roi, 75011 Paris
AVE PIZZA ROMANA 🍕
Bright and contemporary restaurant serving Roman-style pizzas, calzones, appetizers, cocktails and desserts.
AVE Pizza Romana, 90 Rue de la Folie Méricourt, 75011 Paris
And you? What's your team?
Are you more the AMERICAN DINER kind or a NAPOLITAN PIZZERIA lover?
Molang cares for everyone and everything.
Everybody loves Molang. Molang loves everybody.


Do not forget to mention us on  Instagram ✨