Let's cook with Molang - The Perfect Hot Chocolate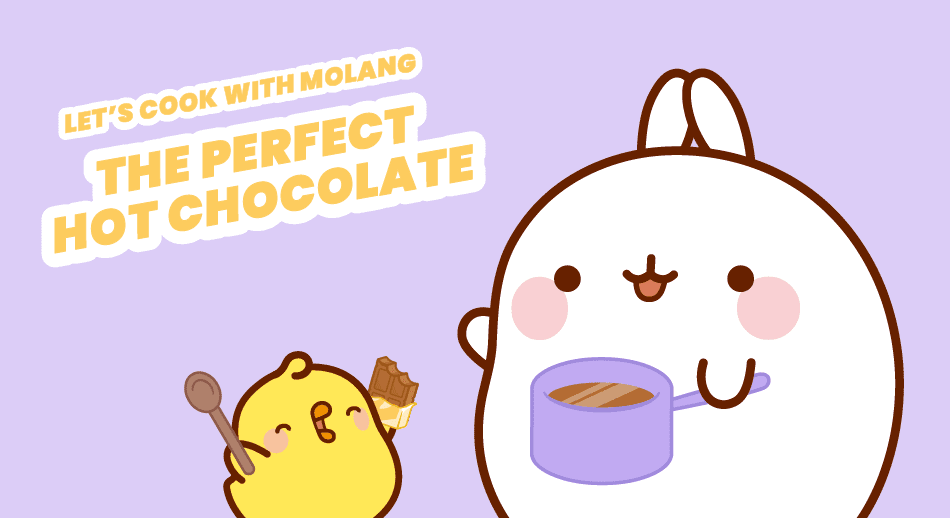 🍫 THE PERFECT HOT CHOCOLATE 🍫
These days, it has been very cold here in Paris! There is nothing better than a good hot chocolate to comfort us!
Let's drink Molang and Piu Piu favorite hot chocolate receipe! 💕
The ingredients you will need:
Milk 

Dark chocolate powder

Powdered sugar

1 stick of vanilla
The utensils you will need:
Casseroles
Whisk
Wooden spatula
Bowl
How to make it?  


*Depending on your personal taste, you can replace the vanilla with cinnamon or cardamom, add cream or a few squares of chocolate to increase the viscosity and have a very smooth drink.
Mix the bitter chocolate with powdered sugar.
Mix and bind it with a little bit of the cold milk. Now the pungent aromas of bitter cocoa are already filling the room ✨ The hydrated cocoa is taking shape as a paste.
Then heat the remaining milk on a low flame with a split vanilla bean.
Dont't forget this strange glass disk to prevent the milk from "running away"...
Then pour the hot milk on the cocoa, dilute and pour the mixture back into the boiling milk. Then with the spatula, stir with patience while watching the velvety texture taking shape.. 
It's ready! Enjoy your hot chocolate! ☕
Molang cares for everyone and everything.
Everybody loves Molang. Molang loves everybody.