MOLANG Tips! Activities to do during Holidays!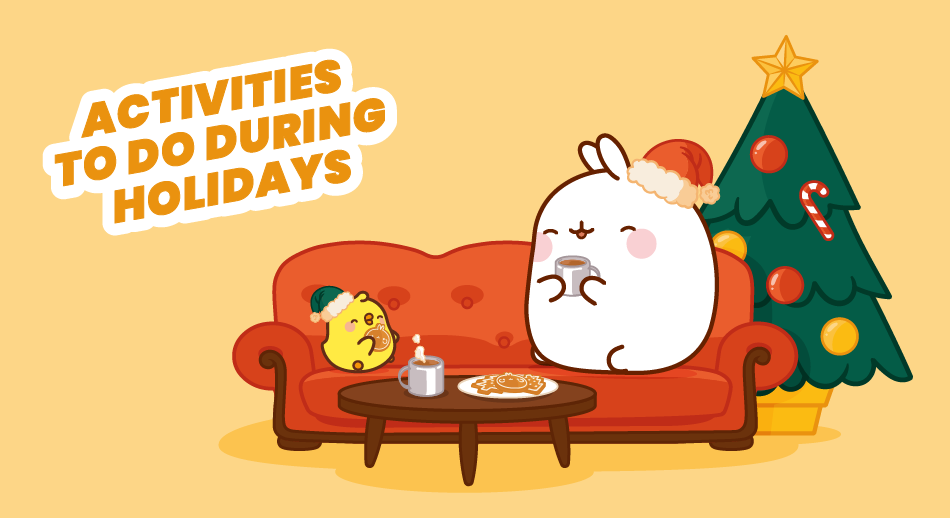 The best season has officially started! The holidays are a special time to reflect on the good things, celebrate annual traditions, and connect with friends and family and of course to RELAX! ✨



1. Let's cook ginger bread cookie with Molang 🍪


Of course! This is the ideal time to cook some cookie following this ginger bread cookie recipe, you can also have your own Molang and Piu Piu own cookie cutters. Let's make some cookies ->
🎄
2. Watch some Christmas movies at home 🎅


Alone, with a friend or family, winter holidays are also an opportunity to enjoy a good show or movie Christmas themed. You can even organize a serie or movie party! Molang and Piu Piu love watching the typical Christmas movies 

3. Hot and delicious chocolate time 🍫


Celebrate that warm feeling of Christmas time with your favorite chocolate beverage by making it with a loved one
. This is a perfect addition for Holiday parties or for visiting family.


4. DIY Christmas card 🎄


Let's do some creative activity now with a DIY Christmas card! 
Make your holiday card feel more personal by doing your own card to give to your loved ones 💕
Have a good time PINCO ! 


Molang 
cares for everyone and everything.
Everybody loves 
Molang
. Molang 
loves everybody.