Find the Molang x Animal Crossing outfits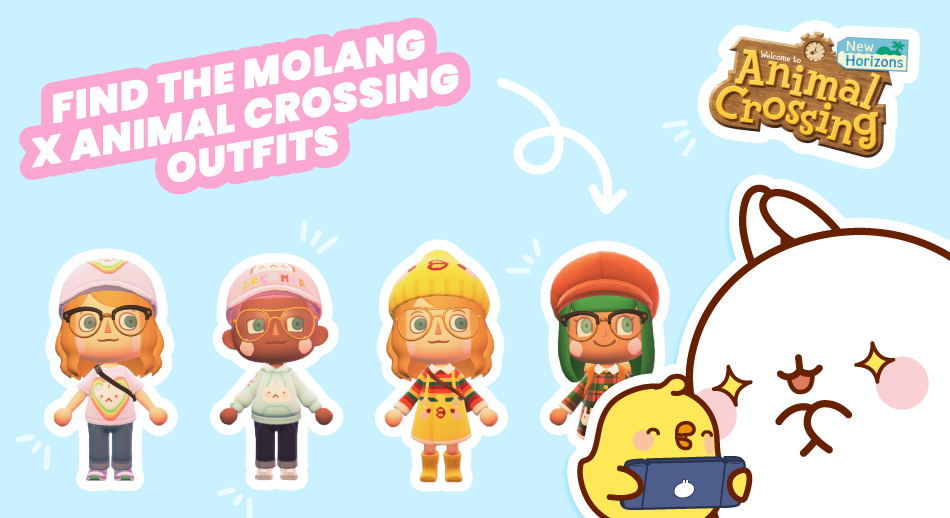 ✨ Molang outfits are now available in Animal Crossing! ✨
Molang and Piu Piu are real fans of video games and Animal Crossing in particular, as you saw in our latest
Molang Youtube video
, so they're always on the lookout to get you such special gifts.
If you too are a Molang addict and also love to play the game, get ready to dress up your favorite character with style and tenderness thanks to our exclusive Molang and Piu Piu outfits, inspired by
Molang clothing available on

o

ur website
. All you have to do is enter the associated code in the Animal Crossing: New Horizons game (the terminal inside the Able Sisters tailor shop), and you'll unlock it for yourself.
We'll show you the different Molang outfits available so you can see how irresistible they are to you, Pincos!
1. The Molang Cap and Molang Rainbow kawaii T-shirt
Ideal for protection from bees, wasps and sunburn, the Molang cap for summer will not only add a touch of whimsy to your look, but will also let you escape Tom Nook's vigilance as you amass your hard-earned bells...
To match your Molang Rainbow cap, you'll need a Molang t-shirt! With a rainbow and Molang tucked inside, there's no doubt about it: the Molang cap and Molang Rainbow t-shirt are the ultimate combination of perfection.
Molang rainbow cap code: MO-DBG8-BWTG-M4FJ
Molang rainbow t-shirt code: MO-CSWL-NYVP-C4VM 
2. The Molang Sweatshirt and Molang Dreamer Cap
In addition to the Molang Rainbow collection, discover the Molang Dreamer outfit in Animal Crossing. It features a Molang hoodie and a cap for summer, both adorned with the Dreamer collection design. The Able Sisters shop will be delighted with your Molang clothes, which will please Mabel, Sable and Label.
Molang hoodie code: MO-D04L-KX4C-QWV8
Molang Dreamer cap code: MO-TLHK-TM08-HV3L 
3. The Piu Piu Beanie and the Piu Piu winter Dress
Let's head for the winter season for the next part of our outfits. Here you can admire a Piu Piu outfit for winter, because yes! Piu Piu also has the right to its own clothes, and Molang likes to share it with you, offering us this adorable Piu Piu beanie and the associated dress for winter, so you can stay warm and enjoy Piu Piu's friendly aura all winter long.
Piu Piu hat code: MO-KFGM-GTKT-FG9W
Piu Piu winter dress code: MO-8S3N-NYV7-MBGN 
4. The Molang Christmas Sweater
Want to take part in the ugly Christmas sweater competition right inside your Animal Crossing game and enjoy Molang outfits at the same time? We've got your back, Pincos! The Molang Christmas sweater is the perfect outfit for celebrating the holidays and creating a warm atmosphere with your island neighbors. Imagine decorating your lovely home or singing Christmas songs with K.K... Are you there yet? Well, you can also discover the Molang sweater for winter right now, without waiting for the gifts season!
Molang Christmas sweater code: MO-D8FS-5M81-B96Q 
5. The Molang winter Coat
Still in winter for the final outfit in our Molang x Animal Crossing selection, the Molang winter coat will keep you nice and cosy to take on the cold weather in style. Whether you're building a snowman or having a snowball fight with friends, the Molang coat for winter will look great on all our Pincos.
Molang winter coat code: MO-G7X7-JFXL-CTKV 


You're all set to wear your best Molang outfits in-game! And if you've enjoyed this selection of Animal Crossing outfits, don't hesitate to discover the different outfits available to buy online on molang.com! 😍