TOP 10 parodies of Molang and Piu Piu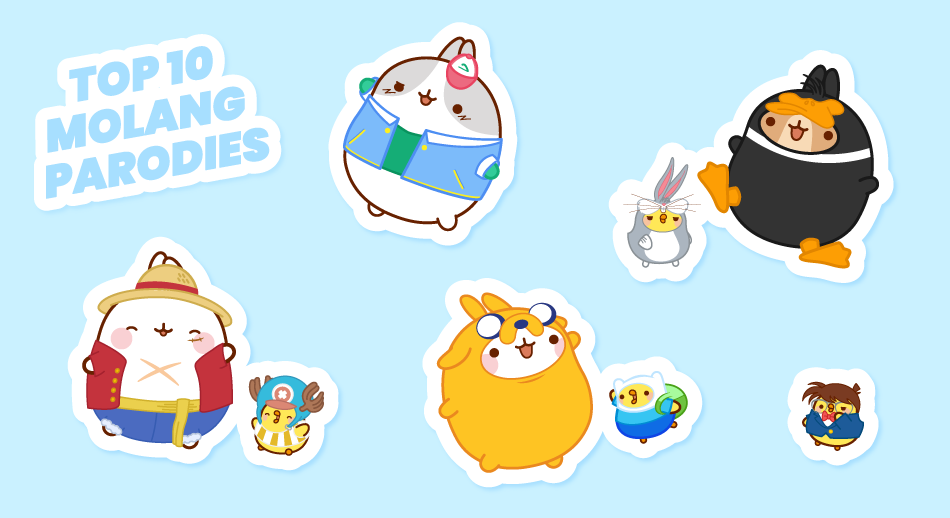 The perfect parodies doesn't exist...Wait a minutes, Molang and Piu Piu parodies are here!
Our Pincos loves Molang and Piu Piu parodies, so here the TOP 10 parodies from our two favorites best friends.
1. Jikook : Jikook is not a person or a person's name. It's a ship name of Jimin and Jungkook two members from the famous boys band BTS. It is one of the most popular ships in the group. Our Pinco loves their parodies! 💕


2. 
Among us : Among Us is a game where you realize how good your friends are at lying. It's best to play with friends and people you know. 

Look

how

mischievous

Molang and Piu Piu are

! 👀


3. TXT, Thursday's Child : Thursday's Child is the fourth extended play by South Korean boy band Tomorrow X Together. All of them looks so romantic with their red roses! 🌹
 4. Demon slayer : Demon Slayer is a Japanese manga series written and illustrated by Koyoharu Gotouge which is become really popular these days. Molang and Piu Piu looks so great in their Tanjiro and Nezuko deguise! 😈
5. Jikook backstage : and again here a parodies of Molang and Piu Piu of Jikook when Jungkook carried Jimin out of the concert venue that has our whole attention. Molang really likes to plays with Piu Piu! 🤭
6. AOT : 
Attack on Titan is a Japanese manga series written and illustrated by Hajime Isayama, It is 
one of the 
best-selling manga series of all time
. Molang will save Piu Piu from this desaster! 🔥


7. BTS « Proof » album : BTS is one of the famous South Korean group of all the time debut in 2013, the members are consisting of Jin, Suga, J-Hope, RM, Jimin, V and Jungkook. For their first anthology album, Molang, Piu Piu and the Pincos have dressed up has them to celebrate their comeback! 🎉
8. Stranger things : Stranger Things is an American science fiction horror drama television series created by the Duffer Brothers, for the release of the 4th season, Molang, Piu Piu and the Pincos seems to be really determinaded in this parodie. 💥
9. Billie Eilish Happier Than Ever : 
Happier Than Ever is the second studio album by American singer 
Billie Eilish
. It was released on July 30, 2021. For this occasion Molang wanted to look like her. ✨
10. Raya and the last dragon : Raya and the Last Dragon is a 2021 American fantasy action-adventure film produced by Walt Disney Animation Studios and released by Walt Disney Pictures. Molang seems to be proud to be dressed up like her! 💚
Which one is your favorite?
Don't hesitate to tell us your suggestion for the next parodies! 
You can find them on our social media! 💜
Molang 
cares for everyone and everything.
Everybody loves 
Molang
. Molang 
loves everybody.